MIXED INFECTION - HANTAVIRUS HAEMORRHAGIC FEVER WITH RENAL SYNDROME AND HERPES SIMPLEX VIRUS ENCEPHALITIS
A CASE REPORT
Keywords:
encephalitis, hantavirus, seizures, PCR, ELISA, herpes simplex virus
Abstract
Introduction: This case report describes a patient treated at the Clinic of Infectious Diseases of University Hospital "St. George" Plovdiv, with two infections occurring at the same time – haemorrhagic fever with renal syndrome (HFRS) and herpes simplex virus (HSV) encephalitis. Results: A 53-year-old male presented with fever, flu-like syndrome and renal impairment with mild nitrogen elevation. The patient was treated at the Clinic of Nephrology for one week. Several hours after discharge he had three generalised tonic-clonic seizures and was admitted to the intensive care unit with status epilepticus and acute respiratory failure requiring intubation and mechanical ventilation for 4 days. Lumbar puncture results showed: white blood cells – 1.10 6 /l, glucose – 5.3 mmol/l, total protein – 1.6 g/l, increased immunoglobulin levels. The patient was transferred to the Clinic of Infectious Diseases with suspicion of viral encephalitis.
HSV type 1 was detected in the cerebrospinal fluid by PCR. Due to suspected hantavirus infection, serum was examined and IgM and IgG antibodies against the HFRS virus were detected by ELISA. Specific treatment with acyclovir was started and there was a rapid improvement in the clinical condition. Convulsions did not recur. Nitrogen levels normalised and there was a short period of polyuria. Thrombocytopenia quickly resolved without occurrence of haemorrhagic syndrome. In the course of the disease, the patient developed mild diarrhoeal syndrome and left thrombophlebitis. He was discharged clinically well with negative PCR results for HSV.
In conclusion, we can assume that as a result of immunosuppression due to HFRS, HSV type 1 reactivated and led to herpes encephalitis.
References
Kaye KM. Herpes Simplex Virus Infections. The Merck Manual 19 th edition, 2011, p.1417-1420.
Lawrence Corey. Herpes Simplex Viruses. Harrison's Infectious Diseases, 2010, p.730-740.
Whitley RJ. Herpes Simplex Virus Infections of the Central Nervous System. Continuum 2015; 21(6 Neuroinfectious Diseases):1704-1713.
Jorgensen LK, Dalgaard LS, Ostergaard LJ, Norgaard M, Mogensen TH. Incidence and Mortality of HSV encephalitis in Denmark: A nationwide registry-based cohort study. J Infect. 2017; 74(1) 42-49.
Kaye KM. Hemorrhagic Fever With Renal Syndrome. The Merck Manual 19 th edition, 2011, p.1433-1434 .
Jiang H, Du H, Wang LM, Wang PZ, Bai XF. Hemorrhagic Fever With Renal Syndrome: Pathogenesis and Clinical Picture. Front Cell Infect Microbiol. 2016; 6:1:1-11.
Papa A, Christova I. Genetic Detection of Dobrava/Belgrade Virus, Bulgaria. Emerg Infect Dis. 2011; 17(2):308-309.
Christova I, Pishmisheva M, Trifonova I, Vatev N, Stoycheva M, Tiholova M, Igova D, Baev M, Karagyaurova R, Prokopova U. Clinical aspects of hantavirus infections in Bulgaria. Wien Klin Wochenschr. 2017; 129(15-16):572-578.
Christova I, Panayotova E, Trifonova I, Taseva E, Hristova T, Ivanova V. Country-wide seroprevalence studies on Crimean-Congo hemorrhagic fever and hantavirus infections in general population of Bulgaria. J Med Virol. 2017; 89(10):1720 -1725.
Christova I, Younan R, Tasseva E, Gladnishka T, Trifonova I, Ivanowa V, Spik K, Schmaljohn C, Mohareb E. Hemorrhagic fever with renal syndrome and Crimean-Congo hemorrhagic fever as causes of acute undifferentiated febrile illness in Bulgaria. Vector Borne Zoonotic Dis. 2013; 13(3):188-1 92.
Shin OS, Song GS, Kumar M, Yanagihara R, Lee HW, Song JW. Hantaviruses induce antiviral and pro-inflammatory innate immune responses in astrocytic cells and the brain. Viral Immunol. 2014; 27(6):256-266.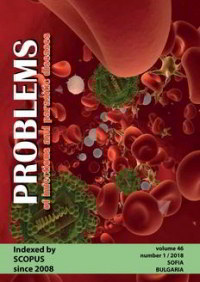 Downloads
How to Cite
Argirova, P., Boev, I., & Stoycheva, M. (2018). MIXED INFECTION - HANTAVIRUS HAEMORRHAGIC FEVER WITH RENAL SYNDROME AND HERPES SIMPLEX VIRUS ENCEPHALITIS: A CASE REPORT. PROBLEMS of Infectious and Parasitic Diseases, 46(2), 25–28. https://doi.org/10.58395/pipd.v46i2.21
License