CUTANEOUS MANIFESTATIONS IN BLASTOCYSTIS SPP. INFECTION
Keywords:
Blastocystis spp., urticarial, gastrointestinal symptoms
Abstract
The pathogenic potential of Blastocystis spp. is extremely controversial. Recently, many researchers have discussed its inductive role in the etiology of various dermatological syndromes such as palmoplantar pruritus, acute, and chronic urticaria. The growing number of urticaria patients showing improvement after eradication of Blastocystis spp. infection, has proven its causative nature. Herein, we present a broad overview of the modern concept of the precise parasitological verification in the routine work-up of urticaria patients.
References
Sohail MR, Fisher PR. Blastocystis hominis and travelers. Travel Med Infect Dis.2005; 3:33-38.
Alexeieff A. Sur la nature des formations dites ''kystesdeTrichomonasintestinalis''. Cr SocBiol. 1911; 71:296-298.
Brumpt E. Colite a Tetramitiusmesnili (Wenyon 1910) etcolite a TrichomonasintestinalisLeuchart 1979. Blastocystishominis n. spetformesvoisines. Bull SocPatholExot 1912; 5:725-730.
Giacometti A, Cirioni O, Fiorentini A. Irritable bowelsyndrome in patients with Blastocystis hominis infection.Eur J ClinMicrobiol Infect Dis. 1999; 18:436-439.
Telabasic S, Pikula ZP, Kapidzic M. Blastocystis hominismay be a potential cause of intestinal disease. ScandJInfect Dis. 1991; 23:389-390.
Vannatta JB, Adamson D, Mullikan K. Blastocystishominis infection presenting as recurrent diarrhea. AnnIntern Med. 1985; 102:495-496.
Kantardjiev V, Stratieva D, Broshtilova V. Palmo-Plantar Lichen Planus Keratoderma. J Res Notes. 2019; 2: 1010.
Kick G, Rueff F, Przbilla B. Palmoplantar pruritussubsiding after Blastocystis hominis eradication. ActaDermVenereol. 2002; 82:60.
Godse K, De A, Zawar V, et al. Consensus statement for the diagnosis and treatment of urticaria: a 2017 update. Ind J Dermatol. 2018; 63:2-15.
Kantardjiev V, Stoikova E, Broshtilova V. Drug-induced Rowell syndrome in a male patient. Script Scient Med 2018; 50 (4); 36-39.
Kolkhir P, Balakirski G, Merk H, et al. Chronic spontaneous urticaria and internal parasites- a systemic review. Allergy 2016; 71:308-322.
Kantardjiev V, Galev A, Broshtilova V. Urticaria Associated with Amoeboid Forms of Blastocystis spp. As J Resear Infect Diseas. 2019; 2:1-4
Bálint A, Dóczi I, Bereczki L, Gyulai R, е al. Urticaria induced by Blastocystis spp. Parasitol Res. 2014; 113:1585-1590.
Biedermann T, Hartmann K, Sing A, Przybilla B. Hypersensitivityto non-steroidal anti-inflammatory drugs and chronicurticaria cured by treatment of Blastocystis hominis infection.Br J Dermatol.2002;146:1113-1114.
Valsecchi R, Leghissa P, Greco V. Cutaneous lesions in Blastocystis hominis infection. ActaDermVenereol. 2004; 84:322-323.
Katsarou-Katsari A, Vassalos CM, Tzanetou K et al. Acute urticarial associated with amoeboid forms of Blastocystis hominis sp.subtype 3. Acta DermVenereol.2008; 88:80-81.
Yan Y, Su S, Lai R, Liao H, et al. Genetic variability of Blastocystis hominis isolates in China.Parasitol Res. 2006; 99:597-560.
Dina M, Abdel H,Hassanin O, Zuel-Fakkar NM. Association of Blastocystis hominis genetic subtypes with urticaria. Parasitol Res. 2011; 108:553-560.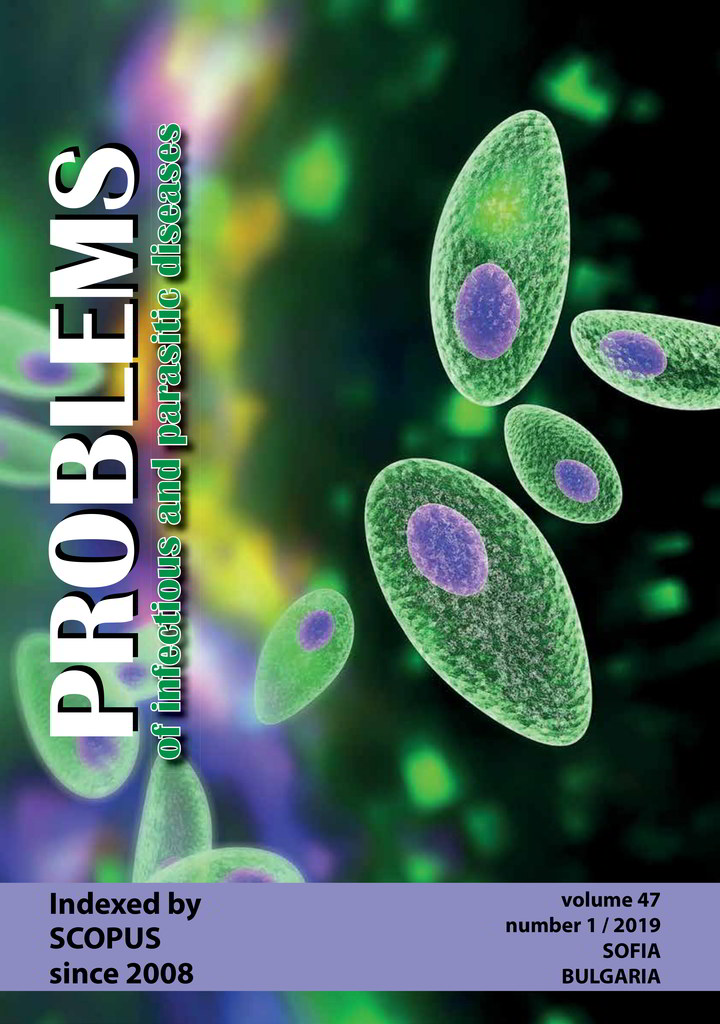 Downloads
How to Cite
Vassilev, V., & Davidovska, S. (2019). CUTANEOUS MANIFESTATIONS IN BLASTOCYSTIS SPP. INFECTION. PROBLEMS of Infectious and Parasitic Diseases, 47(2), 5–6. Retrieved from https://pipd.ncipd.org/index.php/pipd/article/view/47_2_1_CUTANEOUS_MANIFESTATIONS_IN_BLASTOCYSTIS_SPP._INFECTION
License