INVASIVE PULMONARY ASPERGILLOSIS ASSOCIATED WITH INFLUENZA
Keywords:
invasive pulmonary aspergillosis, IPA, Aspergillus, influenza virus
Abstract
The aim of this review is to present the increased frequency of influenza-associated invasive pulmonary aspergillosis (IPA) cases reported from several countries. Classic risk factors or additional immunosuppression may not be observed in affected patients. Therefore, influenza-associated IPA might be diagnosed with a delay and consequently result in worse patient outcomes.
References
Kantardjiev T. Etiologic diagnosis and etiotropic therapy of mycoses. 2012, Sofia, National Centre of Infectious and Parasitic Diseases.
Kantardjiev T, Levterova V, Brankova N, Ivanov I, Angelov P, Panaiotov S. Role of fluorescent amplified fragment length polymorphism analysis in taxonomy, identification and epidemiological examinations of yeast pathogens. Biotechnol Biotechnol Equip. 2006; 20(1):103-106.
Kantardjiev T, Levterova V, Panaiotov S, Ivanov I. Use of Amplified Fragment Length Polymorfhism analysis as a tool for identification and typing of yeast isolates. Mykologia Lekarska (Medical Mycology). 2004; 11(2):113-117.
Buess M, Cathomas G, Halter J. Aspergillus-PCR in bronchoalveolar lavage for detection of invasive pulmonary aspergillosis in immunocompromised patients. BMC Infect Dis. 2012; 12(1):237.
Johnson GL, Bibby DF, Wong S, Agrawal SG. A MIQE-compliant real-time PCR assay for Aspergillus detection. PLoS One. 2012; 7(7):e40022.
Valero C, Cruz-Villar L. New Panfungal Real Time PCR Assay for diagnosis of Invasive Fungal Infection. J Clin Microbiol. 2016; 54:2910-2918.
Somogyvari F, Horvath A, Serly J, Majoros H, Vagvolgyi C, Peto Z. Detection of Invasive Fungal Pathogens by Real Time PCR and High-resolution Melting Analysis. 2012; 26(6):979-983.
Garcia-Vidal C. The interaction between Influenza and Aspergillus. ECCMID April 2018, Infectious Diseases Department.
Fischer J, Walker D. Invasive pulmonary Aspergillosis associated with influenza. JAMA. 1979; 241(14):1493-1494.
ECDC. Influenza-associated invasive pulmonary aspergillosis, Europe. Report from 30 November 2018, Stockholm.
Lat A, Bhadelia N, Miko B. Invasive Aspergillosis after pandemic (H1N1) 2009. Emerg Infect Dis. 2010; 16(6):971-973.
Shah MM, Hsiao EI, Kirsch CM, Gohil A, Narasimhan S, Stevens DA. Invasive pulmonary aspergillosis and influenza co-infection in immunocompetent hosts: case reports and review of the literature. Diagn Microbiol Infect Dis. 2018; 91(2):147-152.
van de Veerdonk FL, Kolwijck E, Lestrade PP, Hodiamont CJ, Rijnders BJ, van Paassen J, et al. Influenza-asociated Aspergillosis in critically ill patients. Am J Respir Crit Care Med. 2017; 196(4):524-527.
Nancy F. Crum-Cianflone. Invasive Aspergillosis Associated With Severe Influenza Infections. Open Forum Infect Dis. 2016; 3(3):ofw171.
Koehler P, Bassetti M, et al. Intensive care management of influenza-associated pulmonary aspergillosis. Clin Microbiol Infect. 2019 [Epub ahead of print].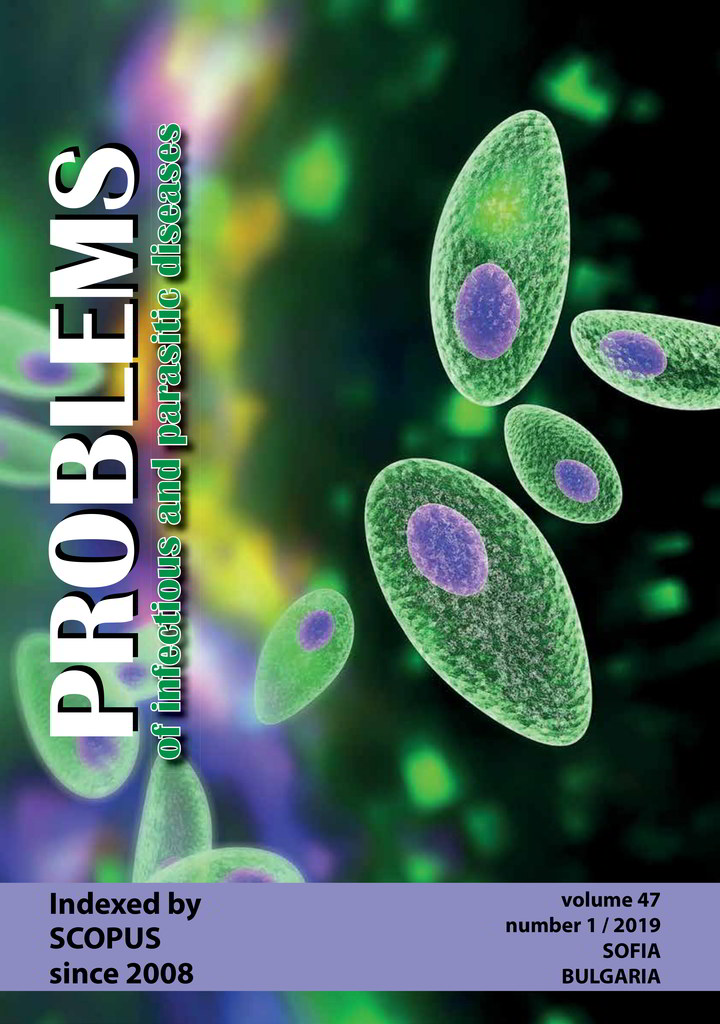 Downloads
How to Cite
Boyanova, L. (2019). INVASIVE PULMONARY ASPERGILLOSIS ASSOCIATED WITH INFLUENZA. PROBLEMS of Infectious and Parasitic Diseases, 47(2), 12–14. https://doi.org/10.58395/pipd.v47i2.5
License