RETROSPECTIVE ANALYSIS OF TAENIASIS IN BULGARIA CAUSED BY THE BEEF TAPEWORM FOR THE PERIOD 2008-2017
Keywords:
taeniasis, beef tapeworm, incidence
Abstract
The aim of the present study is to analyse the dynamics of the distribution of taeniasis caused by the beef tapeworm (Taeniarhynchus saginatus) among the population of Bulgaria for the period 2008-2017.
Material and methods. The analysis is based on laboratory and clinical data on patients diagnosed with taeniarhynchosis in DPTM at NCIPD, as well as data from epidemiological studies carried out by RHIs in accordance with the current legislation in the country.
Results. For the studied period, cases of human taeniarhynchosis were reported from 21 districts of the country, with 246 infected persons. The areas with the highest number of cases during the whole period were Shumen – 14.6%, Plovdiv – 13.8%, Targovishte – 10.9 and Sofia – 10.6%. Annual morbidity ranges from 0.63 per 100 000 (2008) to 0.23 per 100 000 (2017), with average morbidity of 0.37% 000. The prevalence was higher among female subjects (61%), and the distribution by age showed a significantly higher incidence in adults (88%) compared to the group of children and adolescents (22%). The most affected were the age groups 35-39 (11.79%) and 55-59 (11.38%) years. Patients of different ethnic origin represent 54% of cases.
Conclusion. Data from our study shows that cases of taeniarhynchosis, even though sporadic, are reported annually in the country. The distribution is highest in regions with well-developed private livestock farming and high rate of home meat production without veterinary control. Poor health literacy of the population resulting in environmental contamination with human excreta and the possibility of infection of intermediate hosts, as well as consumption of uncooked homemade products and insufficient veterinary health control mainly contribute to the endemic spread of taeniarhynchosis in the country.
References
Jordanova D. Teniarinchosis. In: Petrov P, Kurdova R. (Eds.), Clinical Parasitology and Tropical Medicine, Sofia, East-West, 2016, 344-348. (in Bulgarian)
Dermauw V, Dorny P, Braae UC, et al. Epidemiology of Taenia saginata taeniosis/cysticercosis: a systematic review of the 44 distribution in southern and eastern Africa. Parasites Vectors. 2018; 11:578.
Dorny P, Praet N. Taenia saginata in Europe. Vet Parasitol. 2007; 149:22-24.
Yeremiev K, Cvetkova T, Pavlov S, Stoyanova K. Histomorphological characteristics of Ascaris lumbricoides and Taeniarhynchus saginatus. Scripta Scientifica Vox Studentium. 2017; 1(1):32-36.
Braae UC, Thomas LF, Robertson LJ, et al. Epidemiology of Taenia saginata taeniosis/cysticercosis: a systematic review of the distribution in the Americas. Parasit Vectors. 2018; 11(1):518.
Kurdova R. New trends in parasitism in Bulgaria. Trends Parasitol. 2001; 17(7):314-5.
Trevisan C, Sotiraki S, Laranjo-González M, et al. Epidemiology of taeniosis/cysticercosis in Europe, a systematic review: eastern Europe. Parasit Vectors. 2019; 12(1):84.
Jordanova D. Teniasis. In: Kurdova R (Ed.), Laboratory diagnostics of parasitoses in humans. Sofia, ARSO, 2009, 192-193. (in Bulgarian)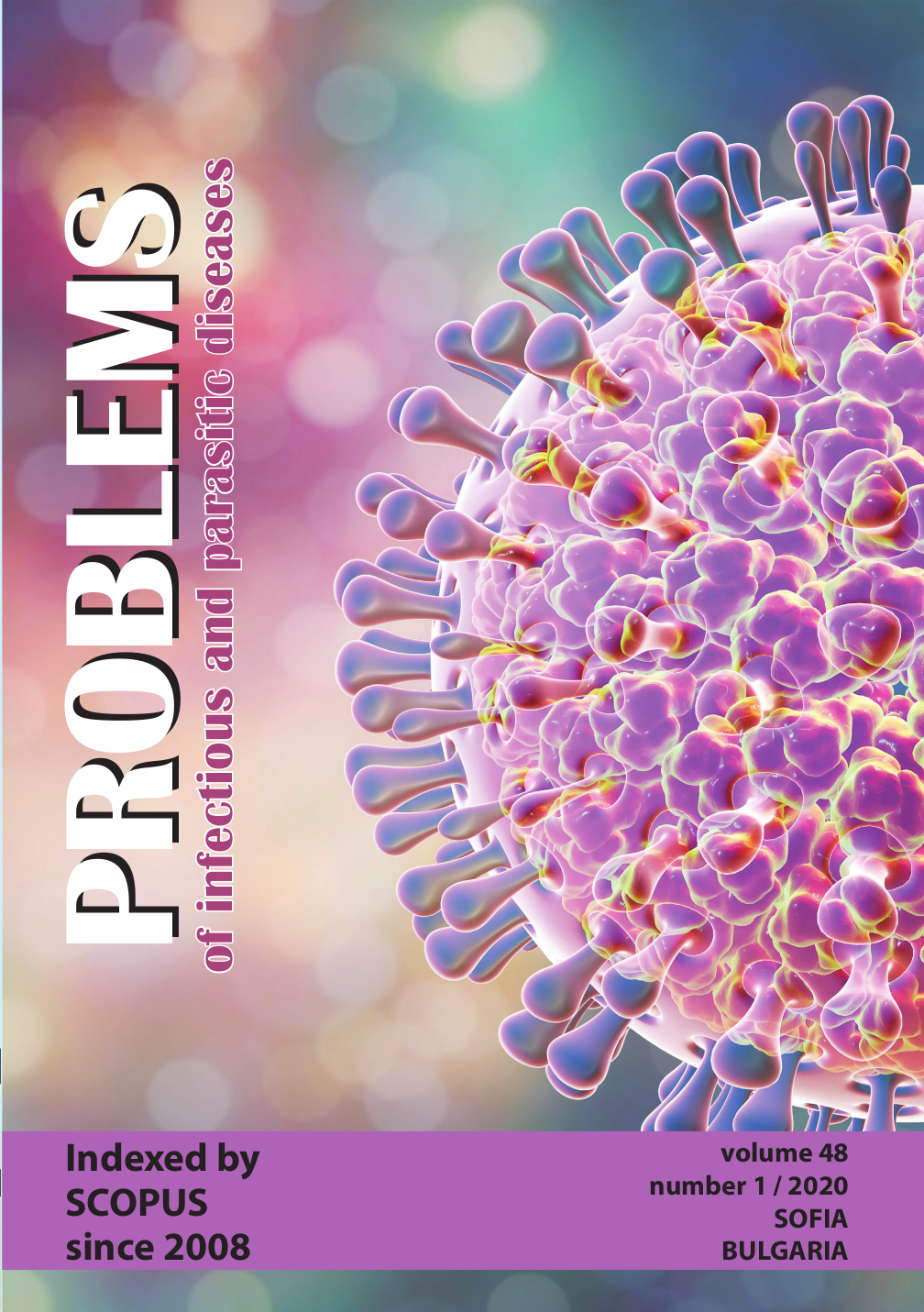 Downloads
How to Cite
Videnova, M., Harizanov, R., Tsvetkova, N., Borisova, R., Rainova, I., & Ivanova, A. (2020). RETROSPECTIVE ANALYSIS OF TAENIASIS IN BULGARIA CAUSED BY THE BEEF TAPEWORM FOR THE PERIOD 2008-2017. PROBLEMS of Infectious and Parasitic Diseases, 48(1), 39–44. https://doi.org/10.58395/pipd.v48i1.32
License