PREVALENCE OF PARASITIC PATHOLOGY AMONG HUMANS IN BULGARIA
A retrospective cohort study over a two-year period (2020 – 2021)
Keywords:
parasitic diseases;, prevalence;, surveillance;, control
Abstract
The aim of this report is to review and assess the dynamics of parasitic diseases in Bulgaria during 2020-2021.
Materials and methods. The analysis is based on the annual reports of the Regional Health Inspectorates (RHIs) about the cases of registered parasitic diseases among humans in the country and on data from the National Reference Laboratory "Diagnosis of Parasitic Diseases" at the National Centre for Infectious and Parasitic Diseases (NCIPD), Sofia, for all examined cases.
Results. For the study period a total of 1,225,485 individuals were examined in the country's parasitological laboratories at the Regional Health Inspectorates, stand-alone medical diagnostic laboratories and at the National Center for Infectious and Parasitic diseases (NCIPD), of whom 19,509 (1.59%) were diagnosed with a positive result for parasitic pathogens. Among the zoonotic helminth infections with local transmission, a special attention deserve cystic echinococcosis and trichinellosis as the incidence of these parasitoses in Bulgaria is the highest among the European member states. The prevalence of ascariasis and trichuriasis in the country have been reduced to such an extent that they do not represent a public health danger any more. Data regarding community acquired giardiasis and hymenolepiasis can be interpreted in a similar way, while for enterobiasis, an increasing prevalence among both children and adults has been observed in recent years.
Although imported parasitic pathology is relatively limited in volume, Bulgarian climate and fauna are quite favorable for local transmission of a number of imported parasitic diseases. Control measures regarding this pathology consist in the timely detection and removal of infection sources.
Conclusion. In Bulgaria, there is a well-established system for surveillance and control of human parasitic diseases, which allows the acquisition of comprehensive information including patients demographic data and characteristics of the causative agents. This enables the monitoring of parasitic pathology among the population and an accurate assessment of the the endemic-related risks.
Downloads
Download data is not yet available.
References
Satoskar, A.R. (2009). Medical Parasitology (1st ed.). CRC Press. https://doi.org/10.1201/9781498713672
Molyneux DH. Control of human parasitic diseases: Context and overview. Adv Parasitol. 2006;61:1-45. https://doi.org/10.1016/S0065-308X(05)61001-9
Harizanov R, Rainova I, Kaftandjiev I. Human cystic echinococcosis, trichinellosis, and toxocariasis in Bulgaria: an update of data for 2015-2017. International Medicine 2019;1(2): 43-50. https://doi.org/10.5455/im.42614
Rainova I, Harizanov R, Tsvetkova N, Borisova R, Kaftandjiev I, Kaneva E, Ivanova A, Mikov O, Videnova M. Status of parasitic diseases in Bulgaria in 2018. General Medicine 2020; 22(1):13-18; 88. (in Bulgarian)
ECDC. Surveillance Atlas of Infectious Diseases, https://atlas.ecdc.europa.eu/public/index.aspx
Kurscheid, J.M. (2021). Soil-transmitted Helminthiasis in Europe and Central Asia: An Update on the Epidemiology and Control Efforts. In: Steinmann, P., Utzinger, J. (eds) Neglected Tropical Diseases - Europe and Central Asia. Neglected Tropical Diseases. Springer, Cham. https://doi.org/10.1007/978-3-030-84224-6_2
Harizanov R., I. Rainova, N. Tsvetkova, I. Kaftandjiev, R. Borisova, A. Ivanova, M. Videnova. Prevalence of intestinal parasitic infections among the Bulgarian population over a three year period (2015-2017). Helminthologia 2020; 57(1): 12–18. DOI: https://doi.org/10.2478/helm-2020-0002
R. Harizanov, I. Rainova, A. Ivanova, N. Tsvetkova, E. Kaneva, I. Kaftandjiev, R. Borisova, M. Videnova, D. Velcheva. Enterobiasis in Bulgaria: a neglected infection with increasing frequency. 15th International Congress of Parasitology, August 21-26, 2022, Copenhagen, Denmark.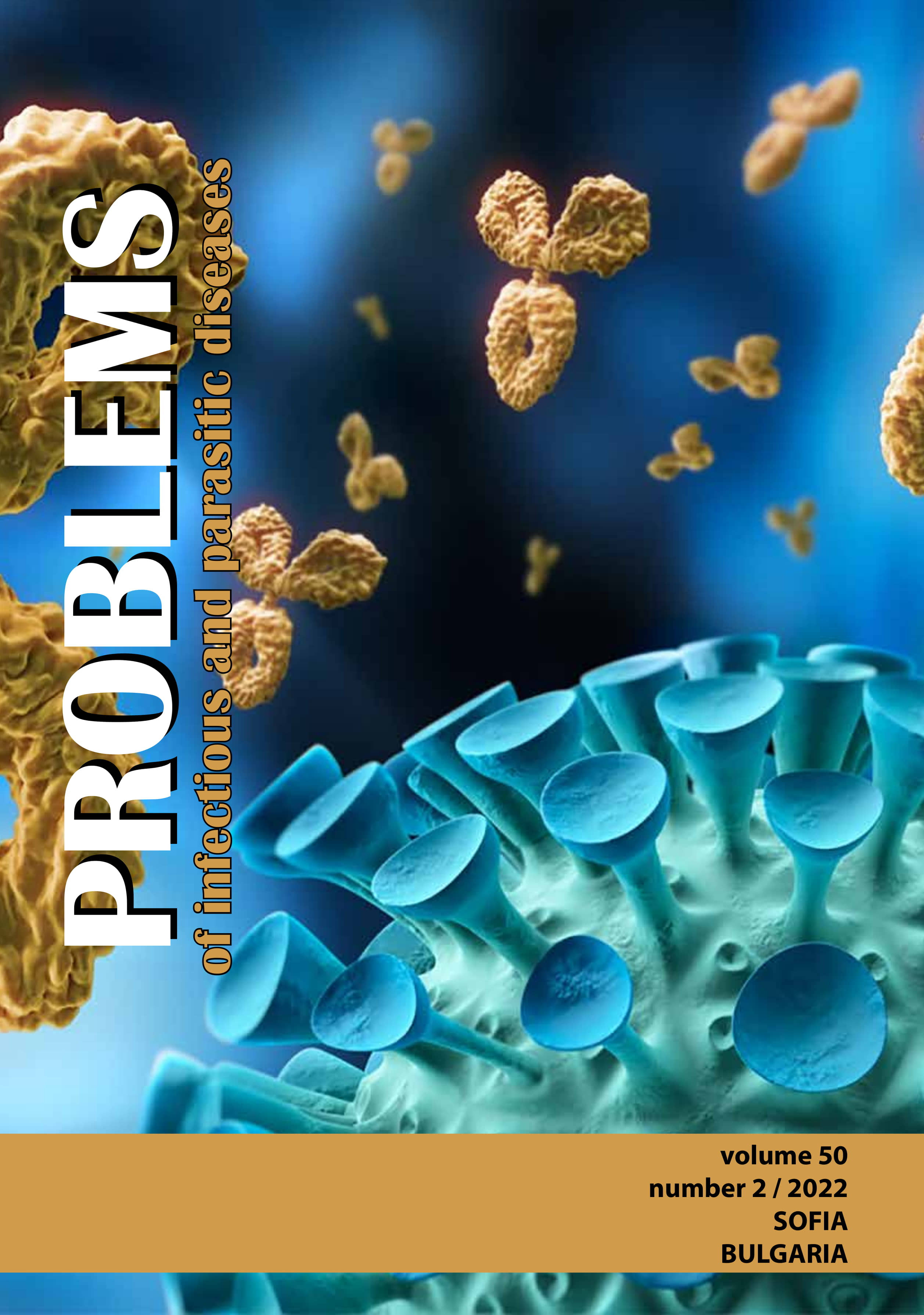 Downloads
License
Copyright (c) 2023 Rumen Harizanov, Iskra Rainova, Nina Tsvetkova, Iskren Kaftandjiev, Raina Borisova, Mihaela Videnova, Eleonora Kaneva, Ognyan Mikov, Aleksandra Ivanova, Violeta Yakimova (Author)
This work is licensed under a Creative Commons Attribution 4.0 International License.
How to Cite
(1)
Harizanov, R.; Rainova, I.; Tsvetkova, N.; Kaftandjiev, I.; Borisova, R.; Videnova, M.; Kaneva, E.; Mikov, O.; Ivanova, A.; Yakimova, V. PREVALENCE OF PARASITIC PATHOLOGY AMONG HUMANS IN BULGARIA: A Retrospective Cohort Study over a Two-Year Period (2020 – 2021).
Probl Infect Parasit Dis
2023
,
50
(2), 26-34.
https://doi.org/10.58395/pipd.v50i2.93
.