DISTRIBUTION OF MYCOBACTERIUM AVIUM COMPLEX IN BULGARIA
Abstract
The members of Mycobacterium avium complex (MAC) are opportunistic microorganisms, common in the environment (soil and water) and cause infections in birds, mammals and humans. The objective of the present study was to determine the prevalence of MAC representatives among suspected for tuberculosis patients in Bulgaria over an eight-year period – from 2010 to 2017. The exact epidemiology of pulmonary non-tuberculous mycobacterial (NTM) disease was difficult to determine because unlike cases of infection with M. tuberculosis complex, notification of NTM and MAC in particular, is not mandatory in terms of Ordinance 21 of the Ministry of Health (1) and there is no any accurate information about their prevalence in Bulgaria. The survey was conducted in the National Reference Laboratory of Tuberculosis at the National Centre of Infectious and Parasitic Diseases. MAC was identified using phenotypic methods, biochemical features and molecular genetic assay (LPA).
A total of 596 NTM strains were identified during the study period and 16.8% (n=100) of them were MAC. In EU countries, MAC representatives are
prevalent among NTM isolates, but in Bulgaria they are significantly less in number.
References
Ministry of Health of Bulgaria. Ordinance 21/18.07.2005 on the procedure for registration, notification and reporting of communicable diseases. State Gazette. 2005; 62. In Bulgarian.
Betty A Forbes. Mycobacterial Taxonomy. J Clin Microbiol. 2017; 55(2):380–383.
Griffith DE, Aksamit T, Brown-Elliott BA, Catanzaro A, Daley C, Gordin F, et al. An official ATS/IDSA statement: Diagnosis, treatment and prevention of nontuberculous mycobacterial diseases. Am J Respir Crit Care Med. 2007; 175(4):367-416.
Marras TK, Daley CL. Epidemiology of human pulmonary infection with nontuberculous mycobacteria. Clin Chest Med. 2002; 23:553-567.
Martin-Casabona N, Bahrmand AR, Bennedsen J, et al. Non-tuberculous mycobacteria: patterns of isolation. A multi-country retrospective survey. Int J Tuberc Lung Dis. 2004; 8:1186-1193.
Jankovic M, Samarzija M, Sabol I, Jakopovic M, Katalinic Jankovic V, Zmak L, Ticac B, Marusic A, Obrovac M, van Ingen J. Geographical distribution and clinical relevance of non-tuberculous mycobacteria in Croatia. Int J Tuberc Lung Dis. 2013; 17:836-841.
Perkins KM, Lawsin A, Hasan NA, Strong M, Halpin AL, Rodger RR, at all. Mycobacterium chimaera contamination of heater-cooler devices used in cardiac surgery - United States. MMWR Morb Mortal Wkly Rep. 2016; 65:1117-1118.
Guidelines for the Prevention and Treatment of Opportunistic Infections in HIV-Infected Adults and Adolescents Disseminated Mycobacterium avium Complex Disease (Last updated: May 7 2013).
Rachel M. Thomson on behalf of the NTM working group at the Queensland TB Control Centre and Queensland Mycobacterial Reference Laboratory. Changing Epidemiology of Pulmonary Nontuberculous Mycobacteria Infections. Emerg Infect Dis. 2010; 16(10): 1576-1583.
van der Werf MJ, Ködmön C, Katalinić-Janković V, Kummik T, Soini H, Richter E, et al. Inventory study of non-tuberculous mycobacteria in the European Union. BMC Infect Dis. 2014; 14:62.
Gancheva G, Doichinova TG, Pakov I. Case report with pulmonary and neural tuberculosis. Probl Infect Parasit Dis. 2016; 44(1):30-34.
Nathavitharana RR, Cudahy PGT, Schumacher SG, et al. Accuracy of line probe assays for the diagnosis of pulmonary and multidrug-resistant tuberculosis: A systematic review and meta-analysis. Eur Respir J. 2017; 49(1):1601075.
Prevots DR, Shaw PA, Strickland D, et al. Nontuberculous mycobacterial lung disease prevalence at four integrated health care delivery systems. Am J Respir Crit Care Med. 2010; 182(7):970-976.
Hoefsloot W, van Ingen J, Andrejak C, et al. The geographic diversity of nontuberculous mycobacteria isolated from pulmonary samples: an NTM-NET collaborative study. Eur Respir J. 2013; 42(6):1604-1613.
Mijs W, de Haas P, Rossau R, van der Laan T, Rigouts L, Portaels F, et al. Molecular evidence to support a proposal to reserve the designation Mycobacterium avium subsp. avium to bird-type isolates and M. avium subsp. hominissuis for the human/porcine type of M. avium. Int J Syst Evol Microbiol. 2002; 52:1505-1518.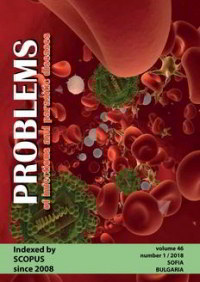 Downloads
How to Cite
Atanasova, Y., Yordanova, S., Todorova, Y., Baikova, A., & Bachiyska, E. (2018). DISTRIBUTION OF MYCOBACTERIUM AVIUM COMPLEX IN BULGARIA. PROBLEMS of Infectious and Parasitic Diseases, 46(2), 10–15. https://doi.org/10.58395/pipd.v46i2.18
License