SEROPREVALENCE OF WEST NILE VIRUS IN BULGARIA, 2018
Keywords:
West Nile Virus, WNV, seroprevalence, antibodies, neuroinvasive disease
Abstract
In Bulgaria, the first laboratory-confirmed West Nile neuroinvasive disease (WNND) case occurred in 2015 and more cases have been reported ever since. The aim of our study was to track the current circulation of West Nile virus (WNV) in the country. We collected 1830 serum samples from healthy people of every district in Bulgaria. Commercially available ELISA kits were used to detect specific anti-WNV IgG antibodies. All positive samples were tested for specific IgM antibodies using the same method. Possible risk factors were identified by calculating odds ratio. Specific IgG antibodies were detected in 22 of the samples (1.2%, CI 0.8% to 1.8%). No IgM antibodies were detected in the positive samples. The highest seroprevalence rates were found in the districts of Pleven, Varna, Silistra and Yambol. This study showed the continuous circulation and spread of WNV in Bulgaria
References
Christova I, Panayotova E, Tchakarova S, Taseva E, Trifonova I, Gladnishka T. A nationwide seroprevalence screening for West Nile virus and Tick-borne encephalitis virus in the population of Bulgaria. J Med Virol. 2017; 89(10):1875-1878.
Christova I, Panayotova E, Trifonova I, Taseva E, Gladnishka T. Unexpectedly high number of West Nile neuroinvasive diseases in Bulgaria in 2018. Probl Infect Parasit Dis. 2018; 46(2):16-19.
Ergunay K, Bakonyi T, Nowotny N, Ozkul A. Close relationship between West Nile virus from Turkey and lineage 1 strain from Central African Republic. Emerg Infect Dis. 2015; 21(2):352-355.
Lustig Y, Sofer D, Bucris ED, Mendelson E. Surveillance and Diagnosis of West Nile Virus in the Face of Flavivirus Cross-Reactivity. Front Microbiol. 2018; 9:2421.
Petrović T, Šekler M, Petrić D, Lazić S, Debeljak Z, Vidanović D, et al. Methodology and results of integrated WNV surveillance programmes in Serbia. PLoS ONE. 2018; 13(4):e0195439.
Tsai TF, Popovici F, Cernescu C, Campbell GL, Nedelcu NI. West Nile encephalitis epidemic in southeastern Romania. Lancet. 1998;352(9130):767-771.
Popescu CP, Florescu SA, Badescu D, Ceianu CS, Zaharia M, Tardei G, Codreanu D, Ceausu E, Ruta SM. Re-emergence of severe West Nile virus neuroinvasive disease in humans in Romania, 2012 to 2017 – implications for travel medicine. Travel Med Infect Dis. 2018; 22:30-35.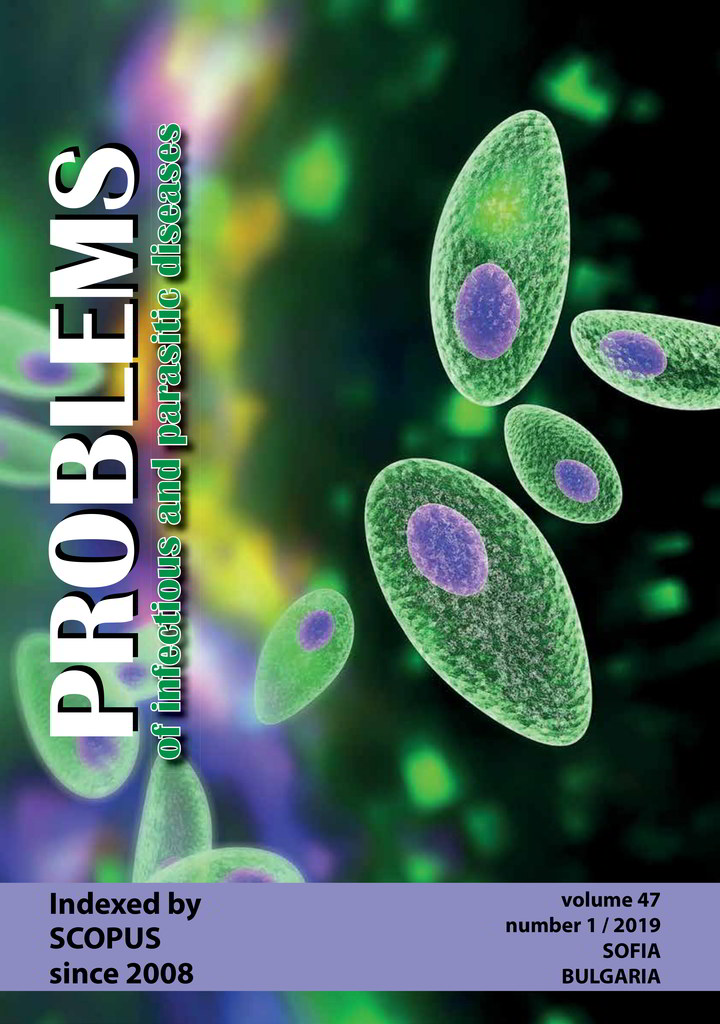 Downloads
How to Cite
Panayotova, E., Christova, I., Trifonova, I., Taseva, E., Gladnishka, T., & Ivanova, V. (2019). SEROPREVALENCE OF WEST NILE VIRUS IN BULGARIA, 2018. PROBLEMS of Infectious and Parasitic Diseases, 47(2), 15–17. https://doi.org/10.58395/pipd.v47i2.6
License