A CASE OF PULMONARY ASPERGILLOSIS IN AN IMMUNOLOGICALLY INTACT 15-YEAR-OLD BOY
Keywords:
pulmonary aspergillosis, non-immunocompromised children, clinical presentation, diagnostic tests, treatment
Abstract
Aspergillus is a fungus which could cause a number of infectious and allergic diseases especially in immunocompromised patients.
We report a case of 15-year-old boy with a small post-pneumonic cavity formation in the 3rd segment of the right lung. After conventional intravenous antibiotic treatment the X-ray changes were still persisting. The boy was in good general condition, without intoxication syndrome, with intact immune status. Physical examination was normal except for mild rare cough. The diagnosis was confirmed by imaging, serological and microbiological tests. Oral itraconazole (200 mg daily) was administered for 6 months along with monthly monitoring of the liver function. CT scan controls were performed in the 2nd, 4th and 6th month. Complete resolution of the cavity was observed in the final CT scan. No operative treatment was necessary.
Although  typical for immunocompromised patients, an immunologically intact child without other underlying diseases can also develop pulmonary aspergillosis. Small lesions respond well to conservative treatment without surgery.
References
Soubani AO, Chandrasekar PH. The clinical spectrum of pulmonary aspergillosis. Chest. 2002; 121:1988-1999.
Kawamura S, Maesaki S, Tomono K, et al. Clinical evaluation of 61 patients with pulmonary aspergilloma. Intern Med. 2000; 39:209-212.
Tuncel E. Pulmonary air meniscus sign. Respiration 1984; 46:139-144.
Ratermann KL, Ereshefsky BJ, Fleishaker EL, et al. Fulminant invasive pulmonary aspergillosis after a near-drowning accident in an immunocompetent patient. Ann Pharmacother. 2014; 48:1225–1229.
Arendrup MC, O'Driscoll BR, Petersen E, et al. Acute pulmonary aspergillosis in immunocompetent subjects after exposure to bark chippings. Scand J Infect Dis. 2006; 38:945-949.
Butler L, Brockley T, Denning D, et al. Acute Aspergillus pneumonia associated with mouldy tree bark-chippings, complicated by anti-glomerular basement membrane disease causing permanent renal failure. Med Mycol Case Rep. 2013; 2:125-127.
Shimaoka Y, Ishida T, Kawasaki S, et al. An autopsy case of Aspergillus pneumonia after inhalation of a great deal of dust in a mushroom factory. Nihon Kokyuki Gakkai Zasshi. 2006; 44:659-664.
Aslam PA, Eastridge CE, Hughes FA Jr. Aspergillosis of the lung–an eighteen-year experience. Chest. 1971; 59:28-32.
Zizzo G, Castriota-Scanderbeg A, Zarrelli N, et al. Pulmonary aspergillosis complicating ankylosing spondylitis. Radiol Med. 1996; 91:817-818.
Kauffman CA. Quandary about treatment of aspergillomas persists. Lancet. 1996; 347:1640.
Rosenheim SH, Schwarz J. Cavitary pulmonary cryptococcosis complicated by aspergilloma. Am Rev Respir Dis. 1975; 111:549-553.
Sarosi GA, Silberfarb PM, Saliba NA, et al. Aspergillomas occurring in blastomycotic cavities. Am Rev Respir Dis. 1971; 104:581-584.
Meeker DP, Gephardt GN, Cordasco EM Jr., et al. Hypersensitivity pneumonitis versus invasive pulmonary aspergillosis: two cases with unusual pathologic findings and review of the literature. Am Rev Respir Dis. 1991; 143:431-436.
Campbell JH, Winter JH, Richardson MD, et al. Treatment of pulmonary aspergilloma with itraconazole. Thorax. 1991; 46:839-841.
Dupont B. Itraconazole therapy in aspergillosis: study in 49 patients. J Am Acad Dermatol. 1990; 23:607-614.
Impens N, De Greve J, De Beule K, et al. Oral treatment with itraconazole of aspergilloma in cavitary lung cancer. Eur Respir J. 1990; 3:837-839.
Tsubura E. Multicenter clinical trial of itraconazole in the treatment of pulmonary aspergilloma. Pulmonary aspergilloma study group. Kekkaku. 1997; 72:557-564.
Soltanzadeh H, Wychulis AR, Sadr F, et al. Surgical treatment of pulmonary aspergilloma. Ann Surg. 1977; 186:13-16.
Massard G, Roeslin N, Wihlm JM, et al. Pleuropulmonary aspergilloma: clinical spectrum and results of surgical treatment. Ann Thorac Surg. 1992; 54:1159-1164.
Kilman JW, Ahn C, Andrews NC, et al. Surgery for pulmonary aspergillosis. J Thorac Cardiovasc Surg. 1969; 57:642-647.
Chen JC, Chang YL, Luh SP, et al. Surgical treatment for pulmonary aspergilloma: a 28 year experience. Thorax. 1997; 52:810-813.
Garvey J, Crastnopol P, Weisz D, et al. The surgical treatment of pulmonary aspergillomas. J Thorac Cardiovasc Surg. 1977; 74:542-547.
Daly RC, Pairolero PC, Piehler JM, et al. Pulmonary aspergilloma. Results of surgical treatment. J Thorac Cardiovasc Surg. 1986; 92:981-988.
McDowell MD, Estrellado-Cruz WL. Chronic Cavitary Pulmonary Aspergillosus with Aspergilloma in a Previously Healthy Teenager. Am J Respir Crit Care Med. 2018;197.
Meng, Chen BS; Zhang, Zhongxiao BS; Liu, Xia MS; Yan, Xiuli BS; Shi, Chong BS; Liu, Na MS; Wang, Xinxin Coll; Ma, Jing MS. Diagnosis of pulmonary aspergillosis-related broncholithiasis in a child undergoing bronchoscopy. Medicine. 2019 - Volume 98.
Munoz P, Vena A, Ceron I, et al. Invasive pulmonary aspergillosis in heart transplant recipients: Two radiologic patterns with a different prognosis. J Heart Lung Transplant. 2014; 33:1034-1040.
Falcone M, Massetti AP, Russo A, et al. Invasive aspergillosis in patients with liver disease. Med Mycol. 2011; 49:406-413.
Winters B, Custer J, Galvagno SM Jr., et al. Diagnostic errors in the intensive care unit: a systematic review of autopsy studies. BMJ Qual Saf. 2012; 21:894-902.
Luong ML, Chaparro C, Stephenson A, et al. Pretransplant Aspergillus colonization of cystic fibrosis patients and the incidence of post-lung transplant invasive aspergillosis. Transplantation. 2014; 97:351-357.
He H, Ding L, Sun B, et al. Role of galactomannan determinations in bronchoalveolar lavage fluid samples from critically ill patients with chronic obstructive pulmonary disease for the diagnosis of invasive pulmonary aspergillosis: a prospective study. Crit Care. 2012; 16:R138.
Ader F, Nseir S, Le Berre R, et al. Invasive pulmonary aspergillosis in chronic obstructive pulmonary disease: an emerging fungal pathogen. Clin Microbiol Infect. 2005; 11: 427-429.
Carrascosa Porras M, Herreras Martinez R, Corral Mones J, et al. Fatal Aspergillus myocarditis following short-term corticosteroid therapy for chronic obstructive pulmonary disease. Scand J Infect Dis. 2002; 34:224-227.
Bulpa PA, Dive AM, Garrino MG, et al. Chronic obstructive pulmonary disease patients with invasive pulmonary aspergillosis: benefits of intensive care? Intensive Care Med. 2001; 27:59-67.
Vandewoude KH, Blot SI, Depuydt P, et al. Clinical relevance of Aspergillus isolation from respiratory tract samples in critically ill patients. Crit Care. 2006; 10: R31.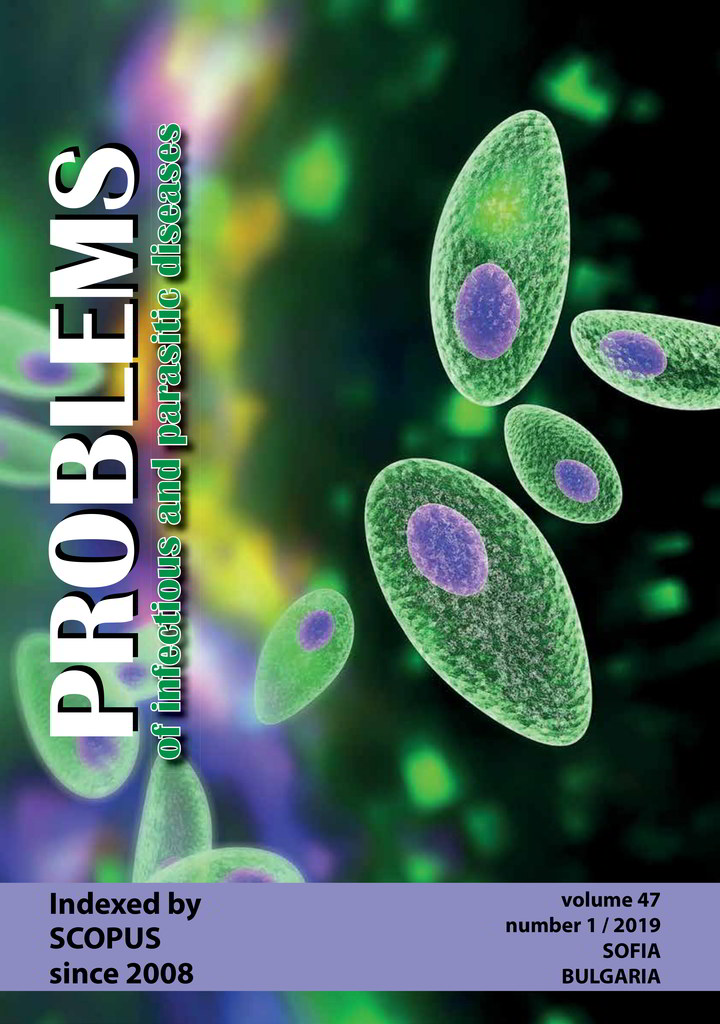 Downloads
How to Cite
Gabrovska, N., Velizarova, S., Spasova, A., Kostadinov, D., Yanev, N., Shivachev, H., Pahnev, Y., Antonova, Z., & Kantardjiev, T. (2019). A CASE OF PULMONARY ASPERGILLOSIS IN AN IMMUNOLOGICALLY INTACT 15-YEAR-OLD BOY. PROBLEMS of Infectious and Parasitic Diseases, 47(2), 7–11. Retrieved from https://pipd.ncipd.org/index.php/pipd/article/view/47_2_2-A_CASE_OF_PULMONARY_ASPERGILLOSIS_IN_AN_IMMUNOLOGICALLY_I
License