ANTIMICROBIAL SUSCEPTIBILITY OF S. PNEUMONIAE STRAINS ISOLATED FROM CHILDREN WITH NASOPHARYNGEAL CARRIAGE
Keywords:
S. pneumoniae, resistance, pneumococcal serotypes, carriage
Abstract
Streptococcus pneumoniae colonises the nasopharynx of children and could cause life-threatening diseases. As a result of the implementation of conjugate vaccines worldwide the spread of vaccine serotypes has decreased. In Bulgaria PCV10 was introduced in 2010 followed by changes in the invasive clones carrying resistance genes. The aim of our study is to determine the serotype distribution and resistance patterns of isolates from children carriers after vaccination. A total of 834 children were tested for S. pneumoniae and 21% showed positive culture results. All isolates were genotyped with PCR. We found that 85% of the positive samples are from children attending kindergartens and schools. The most frequent serotypes/serogroups were 6C (20%) and 24B/F (11.5%), followed by 3 (8.6%), 11A/D (8%), 35F (6.9%), 19A (6.3%), 23A (6.3%) and 15A/F (6.3%). The susceptibility to β-lactams was high and there were strains showing intermediate susceptibility to benzylpenicillin. This study found 76 (44%) MDR strains non-susceptible to at least 3 antibiotic classes and the most common resistance pattern was erythromycin-clindamycin-tetracycline.
References
Ampofo K, Byington CL. Streptococcus pneumoniae. In: Principlesand Practice of Pediatric Infectious Diseases. 2018.
Loughran AJ, Orihuela CJ, Tuomanen EI. Streptococcus pneumoniae: Invasion and Inflammation. Microbiol Spectr. 2019; 7(2).
Wyllie AL, Wijmenga-Monsuur AJ, Van Houten MA, Bosch AATM, Groot JA, Van Engelsdorp Gastelaars J, et al. Molecular surveillance of nasopharyngeal carriage of Streptococcus pneumoniae in children vaccinated with conjugated polysaccharide pneumococcal vaccines. Sci Rep. 2016; 6.
Barnes CE, MacIntyre CR. Risk modelling the mortality impact of antimicrobial resistance in secondary pneumococcal pneumonia infections during the 2009 influenza pandemic. Int J Infect Dis. 2019; 85:1-6.
Jansen KU, Knirsch C, Anderson AS. The role of vaccines in preventing bacterial antimicrobial resistance. Nat Med. 2018; 24(1):10-19.
Setchanova L, Alexandrova A, Pencheva D, Sirakov I, Mihova K, Kaneva R, et al. Rise of multidrug-resistant Streptococcus pneumoniae clones expressing non-vaccine serotypes among children following introduction of the 10-valent pneumococcal conjugate vaccine in Bulgaria. J Glob Antimicrob Resist. 2018; 15(8328):6-11.
Pneumococcal vaccines WHO position paper - 2012 - Recommendations. In: Vaccine. 2012. p. 4717–8.
Geno KA, Gilbert GL, Song JY, Skovsted IC, Klugman KP, Jones C, et al. Pneumococcal capsules and their types: Past, present, and future. Clin Microbiol Rev. 2015; 28(3):871-899.
Hathaway LJ, Brugger SD, Morand B, Bangert M, Rotzetter JU, Hauser C, et al. Capsule type of Streptococcus pneumoniae determines growth phenotype. PLoS Pathog. 2012; 8(3): e1002574.
Kalchev Y, Kirina V, Mircheva M, Tsolova M, Setchanova L, Levterova V, et al. Etiology and epidemiology of non-viral meningitis in the plovdiv region. Gen Med. 2018; 20(2):9-15.
Simeonovski I, Levterova V, Malcheva М, Kantardjiev T. Genetic survey of invasive S. pneumoniae serotypes in Bulgaria for a 5-year period. Probl Infect Parasit Dis. 2018; 46(2):5-9.
Yahiaoui RY, Bootsma HJ, den Heijer CDJ, Pluister GN, John Paget W, Spreeuwenberg P, et al. Distribution of serotypes and patterns of antimicrobial resistance among commensal Streptococcus pneumoniae in nine European countries. BMC Infect Dis. 2018; 18(1).
Rivera AM, Boucher HW. Current concepts in antimicrobial therapy against select gram-positive organisms: Methicillin-resistant Staphylococcus aureus, penicillin-resistant pneumococci, and vancomycin-resistant enterococci. In: Mayo Clinic Proceedings. 2011. p. 1230–43.
EUCAST. European committee on antimicrobial susceptibility testing breakpoint tables for interpretation of MICs and zone diameters. Eur Comm Antimicrob Susceptibility Testing. 2018.
CDC. https://www.cdc.gov/streplab/pneumococcus/resources.html. Streptococcus Laboratory. 2018.
Dagan R, O'Brien KL. Modeling the Association between Pneumococcal Carriage and Child-Care Center Attendance. Clin Infect Dis. 2005; 40(9):1223-1226.
Özdemir H, Çiftçi E, Durmaz R, et al. Risk factors for nasopharyngeal carriage of Streptococcus pneumoniae in healthy Turkish children after the addition of heptavalent pneumococcal conjugate vaccine (PCV7) to the national vaccine schedule. Turk J Pediatr. 2013; 55(6):575-583.
Poulakou G, Katsarolis I, Matthaiopoulou I, Tsiodras S, Kanavaki S, Hatzaki D, et al. Nationwide surveillance of Streptococcus pneumoniae in Greece: patterns of resistance and serotype epidemiology. Int J Antimicrob Agents. 2007; 30(1):87-92.
Luminos M, Dorobat O, Jugulete G, Popescu GA, Florea D, Draganescu A, et al. Nasopharyngeal carriage of Streptococcus pneumoniae in Romanian children before the introduction of the pneumococcal conjugated vaccination into the national immunization programme: A national, multi-centre, cross-sectional observational study. Int J Infect Dis. 2014; 29:169-173.
Setchanova L. Clinical Isolates and Nasopharyngeal Carriage of Antibiotic-Resistant Streptococcus pneumoniae in Hospital for Infectious Diseases, Sofia, Bulgaria, 1991–1993. Microb Drug Resist. 1995; 1(1):79-84.
Stacevičiene I, Petraitiene S, Vaičiuniene D, Alasevičius T, Kirsliene J, Usonis V. Antibiotic resistance of Streptococcus pneumoniae, isolated from nasopharynx of preschool children with acute respiratory tract infection in Lithuania. BMC Infect Dis. 2016; 16:216.
Ceyhan M, Dagan R, Sayiner A, Chernyshova L, Dinleyici EÇ, Hryniewicz W, et al. Surveillance of pneumococcal diseases in Central and Eastern Europe. Hum Vaccin Immunother. 2016; 12(8):2124-2134.
Kim L, McGee L, Tomczyk S, Beall B. Biological and epidemiological features of antibiotic-resistant Streptococcus pneumoniae in pre- and post-conjugate vaccine eras: A United States perspective. Clin Microbiol Rev. 2016; 29(3):525-552.
Song JH. Advances in pneumococcal antibiotic resistance. Expert Rev Respir Med. 2013; 7(5):491-498.
European Centre for Disease Prevention and Control. Surveillance of antimicrobial resistance in Europe Annual report of the European Antimicrobial Resistance Surveillance Network (EARS-Net) 2017. ECDC: Surveillance Report. 2018.
Wang CY, Chen YH, Fang C, Zhou MM, Xu HM, Jing CM, et al. Antibiotic resistance profiles and multidrug resistance patterns of Streptococcus pneumoniae in pediatrics: A multicenter retrospective study in mainland China. Medicine (Baltimore). 2019; 98(24):e15942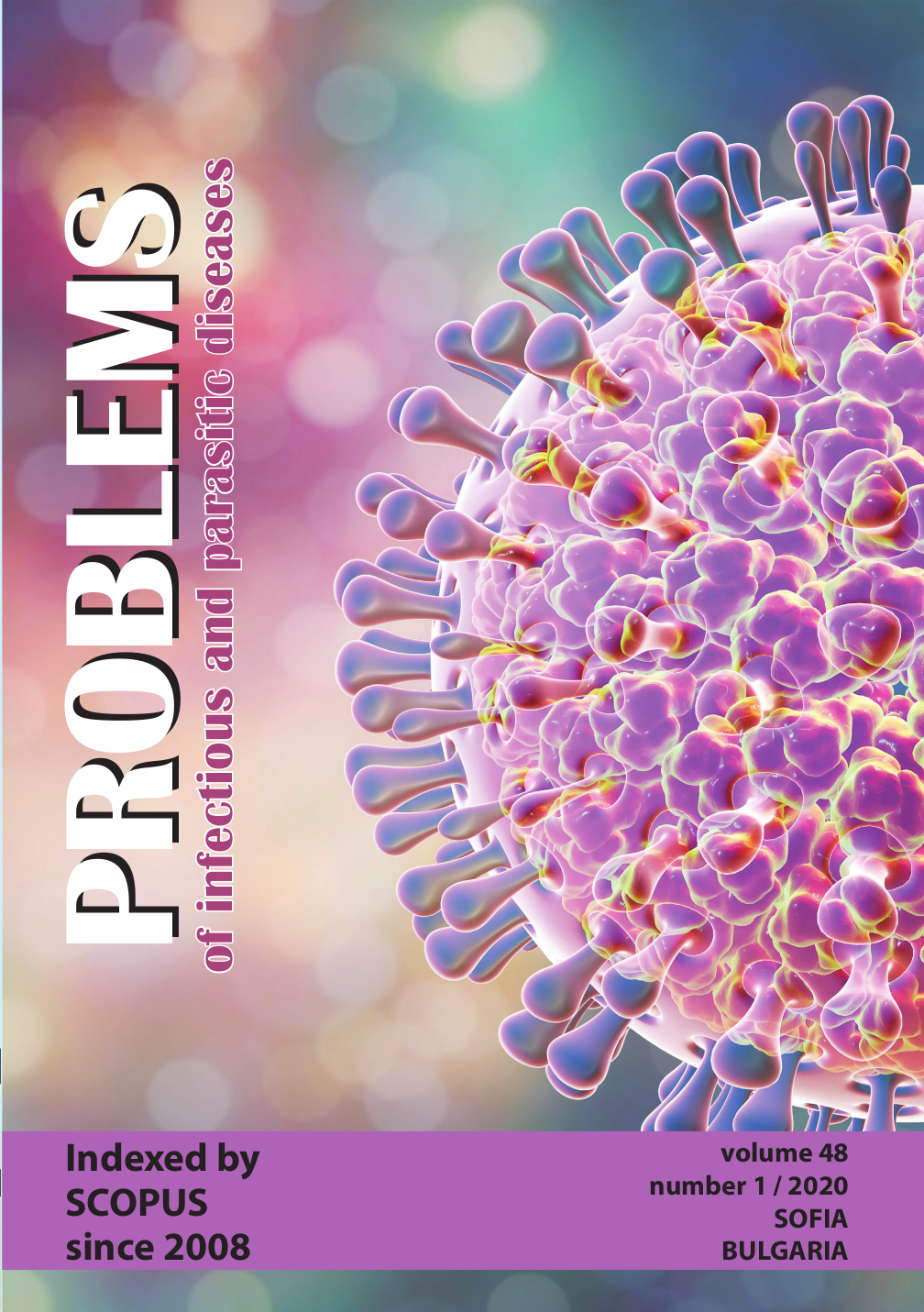 Downloads
How to Cite
Malcheva, M., Philipova, I., Simeonovski, I., Levterova, V., Brankova, N., & Kantardjiev, T. (2020). ANTIMICROBIAL SUSCEPTIBILITY OF S. PNEUMONIAE STRAINS ISOLATED FROM CHILDREN WITH NASOPHARYNGEAL CARRIAGE. PROBLEMS of Infectious and Parasitic Diseases, 48(1), 15–20. https://doi.org/10.58395/pipd.v48i1.28
License