SURVEILLANCE DATA ON BACTERIAL ENTEROCOLITIS IN BULGARIA FOR 2014-2018
Keywords:
enterocolitis, Salmonella spp., E. coli, Campylobacter spp., Shigella spp.
Abstract
Worldwide, 30% of cases of infectious diarrhoea are caused by bacterial pathogens. As in other countries of the European Union, in Bulgaria the most common etiological agents are Escherichia coli (STEC), Salmonella spp., Shigella spp., Campylobacter spp. and Yersinia enterocolitica. Acute gastroenteritis and enterocolitis infections are most common in young children. According to our survey, the leading pathogens for 2014-2018 are Salmonella spp., E. coli (EPEC, ETEC) and Campylobacter spp. The rate of infections caused by Shigella spp. is relatively high compared to other European countries.
The number of enterocolitis cases of undefined aetiology continues to increase because of the neglect towards diarrhoeal syndrome by patients who rarely visit a doctor or do not seek medical attention at all.
References
Preliminary FoodNet data on the incidence of foodborne illnesses-selected sites, US, 2001. MMWR Morb Mortal Wkly Rep. 2002; 51(15):325-329.
EFSA-ECDC annual report on animal infections transmissible to humans. 2011. http://www.efsa.europa.eu/
Allen SJ, Martines EG, Gregorio GV, Dans LF. Probiotics for treating acute infectious diarrhoea. Cochrane Database Syst Rev. 2010; (11):CD003048.
Registered diseases at national level, 2017 http://ncphp.government.bg/index.php?lang=bg
Parmakova K, Aseva G, Ivanova K, Petrov P. Surveillance of Bacterial Intestinal Infections in Bulgaria in 2007-2011. Medinfo. 2012; 11.
Stoicheva M, Velcheva R, Murdjeva M, Petrov M. Intestinal infections with diarrhea syndrome in children up to 5 years of age. Medicart. 2010; 3.
Campylobacteriosis - Annual Epidemiological Reports. https://ecdc.europa.eu/en/publications-data
Joshi S, Wattal C, Sharma A, Prasad KJ. Mixed Salmonella infection – a case report. Indian J Med Microbiol. 2002; 20:113-114.
Asseva G, Petrov P, Bozova E, et al. Updates on molecular epidemiology of S. Typhi in Bulgaria with review of outbreak and sporadic cases, 2008-2014. Probl Infect Parasit Dis. 2015; 43(1):8-12.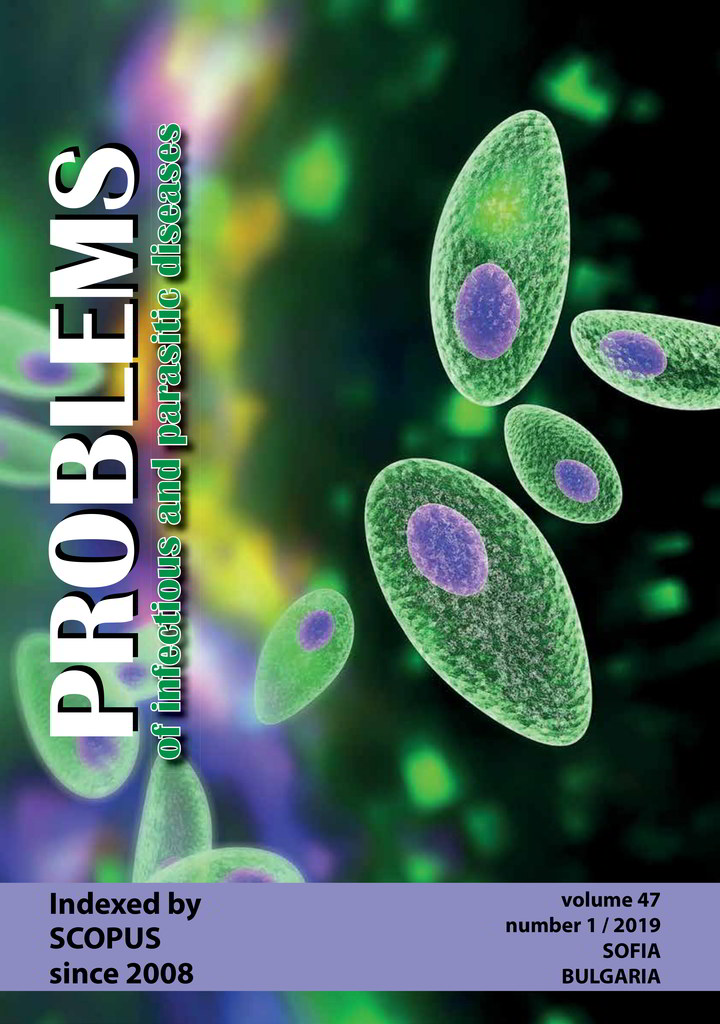 Downloads
How to Cite
Pavlova, M., Velev, V., Karageorgiev, M., Alexandrova, E., Kamenov, E. ., & Kantardjiev, T. (2019). SURVEILLANCE DATA ON BACTERIAL ENTEROCOLITIS IN BULGARIA FOR 2014-2018. PROBLEMS of Infectious and Parasitic Diseases, 47(2), 28–33. Retrieved from https://pipd.ncipd.org/index.php/pipd/article/view/47_2_7_SURVEILLANCE_DATA_ON_BACTERIAL_ENTEROCOLITIS_IN_BULGARIA_
License